The main difference between Motorized and Manual Roller Shutters.
Which type suits your business better? Have a closer look: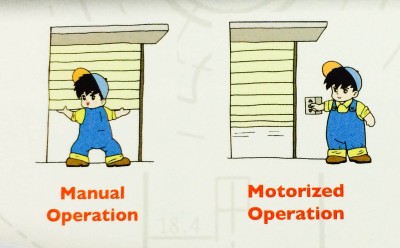 Motorized Roller Shutters: 
Motorized or sometimes known as Electric Roller Shutters are fitted with motors that raise and lower the shutters at the push of a button or by using a remote transmitter. The push button switch or wall switch is usually wall mounted for convenience and can also be in the form of a handheld remote transmitter upon request.
Motorized Roller Shutters provide added convenience as you can open and close these doors whenever required at just the push of a button. Motorized Roller Shutters are usually installed with manual hand chain so that they can still be operated in any case of a power failure.
They can also be installed with safety sensors to give you peace of mind. Motorized Roller Shutters with safety sensors are sometimes known as Motorized Roller Shutters with Auto Reverse Function.
If your priority is to save time and maximise efficiency within your workplace, motorized roller shutters may be the right option due to its convenience.
It is important to know that when your Roller Shutters exceed certain size and weight limit, the roller shutter will have to be motorized as it does not make good sense to be lifting heavy roller shutters manually.
Manual Roller Shutters:
Manual roller shutter is another option you may consider. Raising and lowering can be done manually with the help of a manual pull handle or by using your hands.
Roller Shutter users should avoid allowing the Roller Shutters to slam upwards or downwards as this may cause damage to the shutters.
Manual Roller Shutters is an environmentally friendly option as they do not require any electricity to operate.
It is important to choose your roller shutters according to your business needs and priorities. It may be beneficial to seek the help of roller shutter professionals when in doubt.
Both types of roller shutters regardless of whether manual or motorized, will give you a peace of mind as they help to ensure that your business premises are safe.
As long as maintenance is done on a regular basis, manual or motorized rollers will also be able to last for a long time.