Aluminium vs Steel Roller Shutters
Which do you think will help to secure and protect your business more effectively?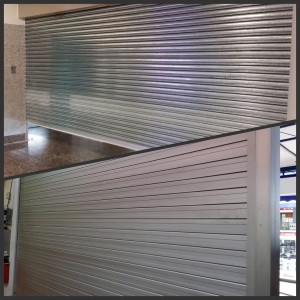 Roller Shutters provide business owners with an important layer of protection in front of their premises. It is necessary to safeguard one's business to prevent any lost of income or work disruptions.
There is no definite answer to whether steel shutters or aluminium shutters are better for you. Every business will have differing requirements depending on the nature of business while every business owner have their own preferences and priorities.
First it is important to consider whether lightweight or heavyweight protection makes more sense for the business you are running.
The next step will be to consider whether it will benefit your business to have see-through shutters that allow you to showcase your products or would your business be better off having more privacy after work hours.
Aluminium Roller Grilles provide ventilation while protecting your premises. The advantage of this lightweight protection is that your potential clients are able to view what is on display within your premises.
In terms of weight, it is impossible to outperform Aluminium Roller Shutters due to the nature of its material. Aluminium Roller Shutters provide business owners with sufficient physical and visual barrier that give business owners a peace of mind.
Besides being lightweight, Aluminium Roller Shutters also provide you with a pleasant corporate image which can also be important.
If you are looking for a heavy duty solution, you may want to consider steel roller shutters as they are heavy and tough and provide a higher level of security due to the nature of its material.
Most Steel Roller Shutters are motorized due to its weight and it will not make good sense to be lifting heavier roller shutters on a daily basis.
Steel Roller Shutters also ensure that your company portrays the right corporate image.
Heavy industries tend to choose steel over aluminium while retail shop owners often go for Aluminium Roller Shutters.